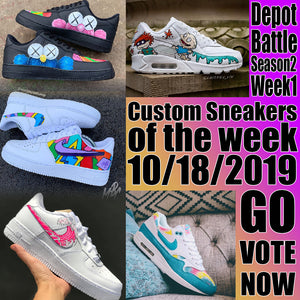 Custom Sneaker of the Week 10/18/2019 DEPOT BATTLE
Happy Friday Mother Flowers!
I'm really excited that due to popular demand (all 7 of you lol) that wanted us to bring back the Depot Battle. YOU NOW HAVE SOMETHING TO LIVE FOR!
So this week we're pitting 5 of you glorious sneaker Customizing bastards against each other to see who will be crowned this weeks best custom sneaker!
The 5 customizers with a brief description of what was done go in no particular order (or at least from the page that i'm looking at I HOLD NO BIAS since I'm not voting and its up to you the voter, not kenny)
1- MattBcustoms - Nike AF1 _CartoonFreestyle - Abstract checkmark and painting
2- NikoSwoosh - Kanagawa Swoosh - the pink wave custom painted nike AF1
3- Lacedby_liv - 90's Cartoon Nike Air Max 90's - Rugrats theme
4- StarlineCustoms - Freestyle Kaws Nike AF1 - DUH! it has the kaws eyes on it!
5- CustomsByBB - Nike Air Max 1 "Tie Dye" - The really colorful one!
I will be creating seperate posts for these so by golly go check the links above to see them separately.
Please be sure to vote below for whom you will be choosing as well as showing us love on the internets and letting your friends know what we're doing here!
---
7 comments