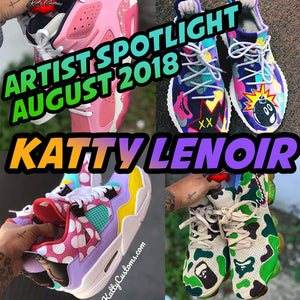 Artist Spotlight August 2018 Katty Lenoir
As we bring back our artist of the month spotlight, we start our kickoff by featuring Katty Lenoir who also goes by KattyCustoms.
Now that we've hit mid August we're showing endless amounts of love to Ms. Katty Lenoir.  A California artist that has the skills and the artwork to prove that she is a heavyweight in the custom sneaker world.  After careful inspection of her work we see that she is no beginner and definitely a professional artist.  Her tape, line work and overall use of color is to be marveled at.  We rarely if at all see any visible flaws from her paintings and we can see why she is highly sought in this niche environment.
We see the work that she's been dishing out and once again her use of color is so very well distributed as well her ability to see beyond a plain pair of sneakers.  What was done to make the pink jordans are exactly what I'm talking about when I say "use of color."  The different shades of pink as well as where she placed the polka dot splatters on the sole of the sneaker is what makes this so fun to look at. 
She has been featured in a few of AngelusDirect tutorial  videos where she explains thetprocess of how to do what she does on their youtube channel... And this only goes to show you that she's definitely getting the respect that she so rightfully deserves.
I must say it's not easy coming up with a concept but to effectively execute said concept is another and we swear if you go down her instagram feed to check out her digital portfolio we will not see anything less than sheer right brain dominant (if you didn't know that's the artistic side of the brain, duh!) 
If you ever wanted to try and get some painting in and do something similar to @LoveKattyLenoir please click on the ANGELUSDIRECT link to get some high quality sneaker paints as well as anything you need to start your own sneaker customizing or sneaker cleaning business.
Here are some links for you to go check out some of KattyCustoms art and portfolio.  She is also super friendly so reach out to her with any questions you may have if you need any tips or general info or what have you. instagram website
Thanks again for reading, we hope you enjoyed who we picked for artist of the month of August 2018.  If this inspires you get out there and get started painting today! 
-Kenny
Depot Team
---