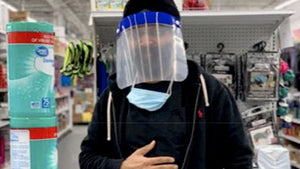 Biggest Sneaker Store in the world Raided by Feds.
From the warehouse of sneakers to getting raided by the FED's. This was the fate of notorious Plainview sneaker store NY Tent Sale aka Warehouse Liquidation Center (WLC). NY Tent Sale has been showcased on numerous celebrity Instagram accounts like DJ Khaled, Tekashi Six-Nine, even Youtube star Blazendary.
If you haven't heard of NY Tent Sale and you are into sneakers, you are probably living under a rock. Amassing a huge following of 458,000 followers on Instagram, NY Tent Sale is no stranger to the sneaker community. Unfortunately, the reason for NY Tent Sale being in the spotlight is for a much more serious matter. Amardeep Singh, otherwise known as "Bobby Sidana" as his online persona, is now facing federal charges against him and his store for price gouging and hoarding protective medical equipment during this Corona Virus pandemic.
The charges are being brought onto Amardeep Singh by Richard Donoghue, the U.S attorney for the eastern district of New York. According to authorities, Amardeep Singh was hoarding several tons of protective medical equipment which included 2.2 tons of disposable surgical gowns, 1.8 tons of hand sanitizer, 1.6 tons of face masks and 253 pounds of digital thermometers in a nearby warehouse. Throughout the search of the store, federal agents found records of Singh selling personal protective equipment at a highly inflated price to groups serving at-risk senior citizens and children fighting the corona virus.
Obviously this was only a matter of time before Singh would be on the Feds radar, especially when you are charging customers $1 a piece for a protective face mask that should be priced at only $0.07. This was a massive 1300% markup for masks that may have done nothing for you. Local authorities stated that between March 25th & April 8th, Singh received a delivery of masks. Among this delivery of masks, some were outdated and no longer approved for use. This was not a good enough reason for Singh to not sell them to his customers as they were repackaged in Ziploc bags and still sold to the general public.
As stated by ABC 7 News, this was not the first issue Singh has given authorities. Several weeks ago Singh was fined $25,000 by Nassau County Executive Laura Curran. The fine was charged due to an inflated price change of N95 masks. What was worse is that the masks were not even certified. When the search was conducted through NY Tent Sale, inspectors seized 100,000 face masks, 500,000 pairs of gloves and 2,500 full body suits. Due to the Defense Production Act implemented by President Trump, Singh is facing up to a year in prison, if convicted. The NY Tent Sale account has now gone private and the store has been shut down. Singh is set to be arraigned at a later date.
---