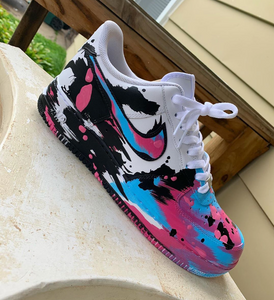 Illiunaire's abstract art AF1's make major 🌊🌊🌊
In the immortal words of any human being to ever want some to succeed, the words I think I'm looking for here is "he is absolutely killing it," and in terms of who I'm talking about... I'm talking about @illiunaire.  A highly sought after sneaker artisan with many celebs under his belt (don't take that literally) like eminem, chance the rapper, e40, kevin gates and many more he has created these unique abstract art custom painted nike air force 1.
In the essence of truth and honesty when I first saw
these I glanced at them on instagram for a split second.  When I mean I glanced at them I constantly straight up speed through my timeline and just wait for something to pop out and smack me on the lip.  These totally made me stop because I was like WHAT IN THE F*CK are those! Then after about another 15 seconds of looking at them I realized these were absolute fire.  Don't judge this book by its proverbial cover.  The amount of work that goes into these are absolutely insane.
To an art layman, I would say these would get overlooked rather quickly.  The way that the brush strokes just make sense more than anything.  Between having painting knowledge as well as an art background I would like to reiterate that abstract art isn't easy I would chalk it up to having a certain type of vision and a sheer gift to make these sneakers work.
Please allow me to explain that I think that these sneakers are a beautiful showing of art, patience and overall comprehension how paint works.  The way he uses his signature style of almost applying paint to sneakers makes it look thin and crisp like it was done better than you would get it from Nike themselves.  I wish i had 2 more hands so I could give these sneakers 4 thumbs up.
I also would like to add that he makes me want to better my craft and should inspire you to do the same.  I wish that he would make more similar to this but a man can dream! 
If you would like to reach out to him and try and cop a pair please vist him by clicking this link --> illiunaire
If these inspire you to start your own projects head over to leathercaresupply
 To get your own set of tools to start your customizing needs or business.  Make sure to use "customizerdepot" at checkout to get 10% off your purchase.  If you wanted to check out other artists we feature make sure to check our blog by clicking the blog or check out our CUSTOMIZERDEPOT instagram.
Thanks again guys for taking the time out of your day and check us out here at customizerdepot.com
Have an awesome day,
Kenny
---