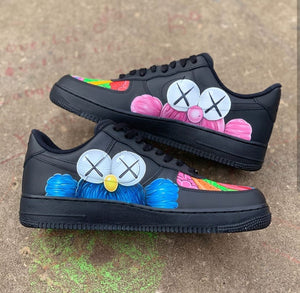 KAWS Custom Painted Nike Air Force 1 by StarlineCustoms
Today marks a great day for season 2 of the depot battle. We have a great artist on deck for this week for his custom hand painted KAWS Nike AF1's.  His name is @StarlineCustoms based out of the UK. I got a chance to catch up with him about his job and how he's doing major moves with a lot of the work he is showing the world today!  Just by looking at his instagram @starlinecustoms you can tell his portfolio says it all. 
The level of detail on these bad mamajammas are so stinkin' cool.  No it's not a portrait job but the work speaks for itself here.  I am a huge fan of the amount of detail and colorway here.  Since Kaws collaborated on many sneakers with Nike as a company I would much prefer these and paying for the Mens Air Jordan Retro 4 Kaws which are going for about $1700+ on StockX.  We get into the KAWS and Effect reality that @StarlineCustoms has with his custom pair of Kaws Nike Air Force 1's.  His custom sneaker art isn't as expensive as those retro jordan 4's but the artwork is much better, much more detailed and way more colorful than the all grey Kaws will ever be.
In essence if haven't gotten a chance to check out the DepotBattle for the weekend of 10/18/2019.  He like the other 4 customizers that he is going up against are worthy of this weeks battle and truly need to be recognized for their artwork on sneakers.  Please make sure to follow this LINK to go cast your vote for @StarlineCustoms over on our website custom tab DepotBattle! You have until monday 10/21/2019 to place your vote!
If you wanted to learn how to customize like StarlineCustoms I would suggest starting here with us over at CustomizerDepot.  He have a couple of blog posts and videos for you to look at.
I would also suggest with getting quality paints from our buddies over at AngelusDirect and LeatherCareSupply. Follow the links so that you could see all the different supplies you can get to get started with your sneaker customizing business and/or needs!
If any of you have any questions please feel free to contact us via any of our numerous outlets.  Stay Blessed and keep crafting.
---