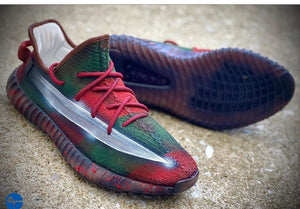 Nightmare On WHAAAAAAAAAT STREET!
If Johnny Depp could just wake up to see these custom painted yeezy 350's He wouldn't have died in his first movie roll. These custom yeezy's are clearly inspired by the nightmare on elm street character Freddy Krueger who sported a finger blade or knife glove that he used to torture his victims.
I am happy to say that these custom painted sneakers are made by Kentucky Native @TrueBlueCustoms.  A very talented salt and garlic color bearded artist that has hundreds of custom sneaker jobs under his belt.  A "SEASONED" veteran in the custom sneaker game has been doing this for years so he knows his way around a paint job.
Growing up with movies like Nightmare on Elm street and knowing full well what it has done to pave the way in the horror movie genre makes me really excited to see a custom sneaker to match.   
How is this different from any other Freddy/Nightmare on Elm Street custom? -Glad you asked!
Not downplaying any other customizer that has done this type of custom in the past but these Freddy Krueger Yeezy 350's would make me want to wake up from a nightmare or make me want to go to sleep just to see them in person knowing full well they might murder me.  These are extremely well thought out in the sense that @truebluecustoms the native stripe that makes the yeezy 350 the iconic sneaker that it is into one of Freddy's famous finger blades.  Nothing but sheer hilarity because of how cleverly he uses the stripe as a blade. This is why I think these could quite possibly be my favorite Freddy Krueger custom!
Created with Angelus Paints be sure to check them out if you wanted to try these at home obviously adult supervision is needed as they are rated R.
In the event that you are looking for this type of heat please contact @TrueBlueCustoms as fast as you can! You can contact his via email which is truebluecustoms@gmail.com.
Thanks for hanging out.
Kenny
-DepotTeam
---