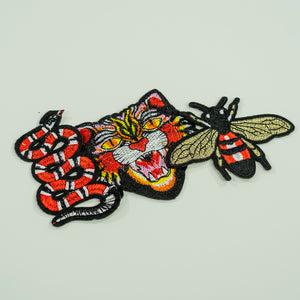 Shoelace Patches Plug
As part of our new blogging system i.e. I stopped being lazy and set myself up with a new account instead of using the main username which is BigT's.  You'll notice the type of writing and analogies that I use because his overall grasp of the English language if I can put it in values is "null."
So for these new posts I'll be writing to let you all know that we've created, cool shit we see as well as any overall news I may have to divulge to the masses which will be a lot especially once we go hand in hand with our vlogs.
Today, I unveil to you the shoelace patches.
I got the idea to make these about a year and change ago before the Travis Scott AF1's but never had the time to really put it into full effect.  After that, I decided to do some research and development thus creating these beauties.
It comes in many different styles like the sugar skull patches with many different color options which you can find here.
We also have the Wolf, Bear, and Tiger Set.
You also can't forget about the pizza shoe lace patch. That thing is so cheesy its dangerous. These are quite possibly my favorite only because WHO DOESN'T LOVE PIZZA!  No seriously though, who doesn't? People that are lactose intolerant maybe.  But again, They probably love it they just can't have any because they will get "mud butt."
Well, as far as digressing on a tangent on how pizza affects the non dairy folk I will say that these will accent your sneaker like an absolute flex when you want to show that you want to rep your fave animal (or food.)
Do us a favor and check them out and enjoy if you decide to get them.
If you already did we appreciate the support for our small business and help us break a 6 figure salary! I should write LOL at the end of that because that's exactly what I need help with.
Thanks again,
KPee.
---