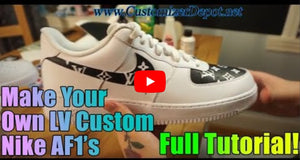 Tutorial : Custom LV painted Nike Air Force 1 Louis Vuitton Inspired
 Ever ask yourself `how do those guys customize sneakers` well here`s your chance to find out.  We love customizing as well as seeing other customizer`s do their thing.  
Working with sneakers is one of our favorite things to do.
So if you've ever wanted to make your own here is a tutorial on how to do it all by your lonesome.

We here at the CustomizerDepot studio teach you  how to prep your sneaker painting area, how to place a stencil on a sneaker as well as how to paint a sneaker.

We take a regular white pair of nike air force 1's and we put a Louis Vuitton theme on them.

If you ever wanted to customize your own shoes...give it a try.
Some useful links if you want to start doing this yourself:
Phone Cases - https://bit.ly/2oUjLPG
Paints/ Brushes/ Resins - https://bit.ly/30Scy

Looking for the stencils?
Link - https://bit.ly/33eFxN4

Some useful links on where to find stuff:
Gucci Web Band - https://goo.gl/NUuxCr
Cheapest Apple Watch Price - https://amzn.to/2LZf90n
Black Off-White Apple Watch Band - https://goo.gl/M2JKU8
Airbrush - https://amzn.to/2Pf3Gw2
Compressor - https://amzn.to/2MWz4lq
Airbrush & Compressor Combo Under $300 https://amzn.to/2PgvvUF
Airbrush Cleaners under $10 - https://amzn.to/2BWYCuk
Angelus Sneaker Paint Set - https://amzn.to/2PfVonD
Angelus Leather Preparer & Deglazer - https://amzn.to/2Lzkpb1
Angelus Matte Finisher - https://amzn.to/2BWHjtv
Angelus Shoe Cleaner - https://amzn.to/2PejHSN
Gaming Chair - https://amzn.to/2LyBYYR

CHECK OUT LEATHERCARESUPPLY FOR ALL YOUR CUSTOMIZING NEEDS!
They offer FREE SHIPPING as well as FREE RETURNS for any of your future products!!!!!! Please go visit them today!
GET 10%OFF WITH "CUSTOMIZERDEPOT" IN THE DISCOUNT CODE!!! GO NOW WHAT ARE YOU WAITING FOR!!!!
https://www.leathercaresupply.com/?re...

Giardini Leather Edge Paint
Click this link to get the best leather edge paint on the planet!
CLICK HERE - https://bit.ly/2T36mQm

Check out the video and let us know what you think.

These are pretty dope...if you want to see any other tutorials...hit us up!

Support us the best way you can! Don't forget to Comment "Cop or Drop", Like and Subscribe!

If you're looking for stencils for your next project...hit up our site.
https://goo.gl/71DKFF


Made with Angelus Products (the dopest paints as well as awesome staff) we're proud to show you guys what we do and what we used to make it. If you want to check out what they have and try it yourself...CLICK THE LINK - https://goo.gl/b2dh8f

Want to purchase our custom supreme vans with a 10% discount?
https://goo.gl/Ad8HLs
Use Discount Code: HYPEBEAST
(not necessarily the most secretive code)

Check out our instagram @customizerdepot https://goo.gl/xSm4Ae

all links are provided by google link shortener so don't get scared!

If you have any questions please feel free to contact us.
---